The 12 dangers of Christmas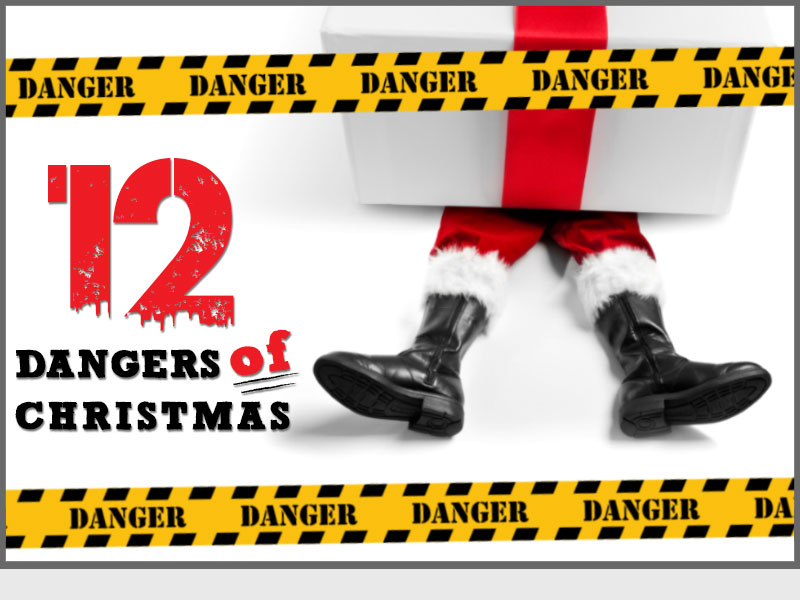 'Tis the season to be jolly, fa la la la la, la la la arghhh! While Christmas may be the time for feasting, family gatherings and festive cheer, there's a somewhat sinister side to the season, as many unfortunate individuals have discovered.

In Christmas' past, emergency rooms have assisted some rather sorry souls. Among them are those who have nose-dived off ladders (actual and makeshift ones) while hanging decorations, those who have broken their arms while pulling crackers (yes, it appears some people are fiercely determined to get their hands on the gimmicky gifts and lame jokes inside), and those who have been poked in the eye by a branch while attempting to collect their gifts from under the tree. Ouch!

While these poor individuals were fortunate enough to escape with just a few cuts and bruises, others have not been so lucky. Spare a thought for those who've died as a result of watering their Christmas trees with the fairy lights switched on – clearly, not the brightest – as well as those who've come to a tragic end by mistaking Christmas decorations for chocolate. Then there are those who have died trying to determine if a nine-volt battery for a new electronic appliance or toy works – by testing it on their tongue.

Once you start thinking about it, there are countless things one needs to look out for over the festive season, including, would you believe it, Christmas presents. Just ask the 6,500 people (that's just in the US) who head to the ER each year as a result of wrap rage – yes, it's a thing. In fact, this sticky situation, which has thousands ripping, tearing and stabbing their gifts in order to open them, is such a thing that it even has its own awards evening.

And that's just the beginning when it comes to gifts… Others have been injured by Scalextric cars that ran amok, while others have suffered severe burns after trying on a new jersey (admittedly, they were smoking at the time). Some have had broken bits of toys removed from their feet, and then there are those who have experienced stabbing pain after failing to remove all of the pins from their new Christmas shirt. Where does it end, really?

And then, just when you think Christmas is over and you can breathe a sigh of relief and go back to life as normal, there's the story of the German man who, while attempting to clean up after the festive season, threw his Christmas tree – and himself – out of his third story window and ended up with severe head injuries. According to Reuters, "The tree did not break the victim's fall." Unfortunate.

What all of these stories go to show is that life has a way of throwing the unexpected (and occasionally the ridiculous) our way, and the festive season is no exception. While you never know when your number might be up, you can protect yourself and your family with no-nonsense Life Cover and Disability Cover from FRANK.NET. And on that comforting note, we wish you and yours a happy, peaceful and safe festive season!