World No Tobacco Day
May 31 is World No Tobacco Day (WNTD), an initiative started almost 30 years ago by the member states of the World Health Organization (WHO). The point? To educate the global community about the dangers of tobacco use and encourage people around the world to go without any form of tobacco for 24 hours.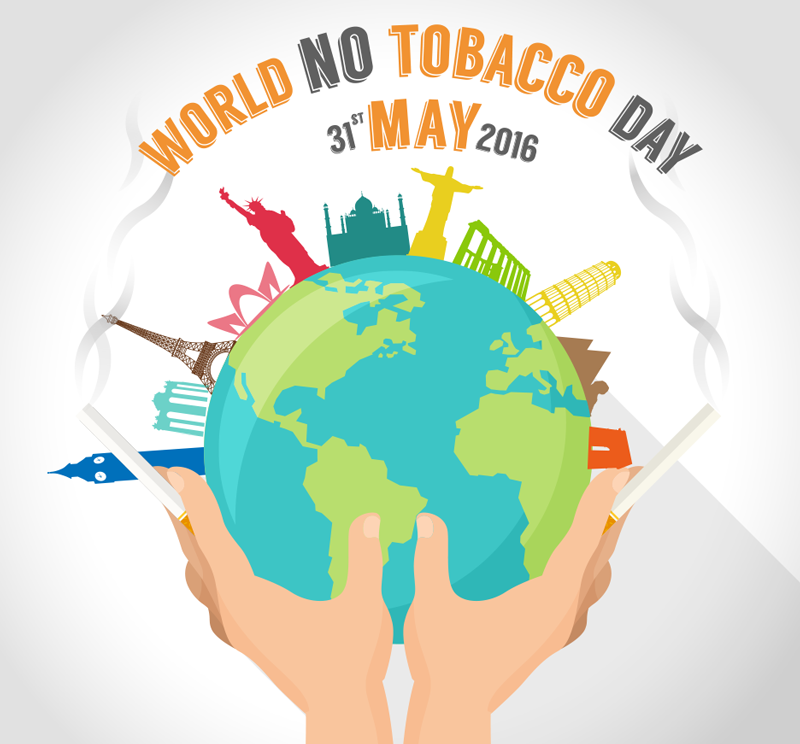 This year, WNTD is calling on governments to embrace plain packaging, i.e. without logos, brand images, colour and marketing information, for tobacco products. Instead, packaging should include graphic images that show the devastating effects of tobacco use in order to make it as unattractive as possible and prevent it being used as an advertising channel. The South African Government has already taken steps to adopt this proposal.

Tobacco use is one of the greatest risk factors for non-communicable diseases like cancer (they don't call them cancer sticks for nothing), chronic respiratory diseases and cardiovascular diseases. Here are some other scary statistics worth knowing:

Tobacco kills roughly 6 million people each year – that's more than the entire population of Denmark or Singapore!
Of these 6 million, more than 600 000 die as a result of exposure to second-hand smoke
In South Africa, there are 44 000 tobacco-related deaths each year

Fortunately, there is some good news. According to cansa.org.za, tobacco use is the single most preventable cause of cancer. So if you're a smoker and you've been thinking of kicking the habit, there's no time like the present (or WNTD) to weigh up your options and take the first step:

Going cold turkey
Most people who quit smoking choose this route. One day they're buying a pack of cigarettes, the next day they're not. The key to success with this approach is willpower, a supportive network of friends and family, and a strong focus on the benefits of kicking the habit – how does improved blood pressure, heart rate and oxygenation of your blood sound for starters?

Taking it slow
Not everyone has what it takes to go to bed a smoker and wake up the next day a non-smoker. So if just the thought of quitting has you reaching for your next cigarette, try a little-by-little rather than an all-or-nothing approach. This way, you get to set the pace and decide how many cigarettes to cut per day or week until you're eventually down to zero.

Opting for NRT
NRT or nicotine replacement therapy such as nicotine gum, patches and lozenges helps you kick the habit by addressing cravings with very low doses of nicotine. The idea is that you slowly wean yourself off these products.
Good to know:

If you're pregnant and planning to quit, it's advisable to check with your GP before using NRT.

Under 18s cannot legally purchase nicotine products and would need a doctor's permission to do so.
Getting a prescription

There are certain medications available that can help you kick the habit, but all of them will require a trip to your doctor for a prescription.

Hitting the 'couch'
Working with a therapist is another good option. Cravings are often triggered by specific moments in your day – while grabbing a coffee on the way to the office or after a meal – as well as by certain emotions. These can include anger, anxiety and yes, even happiness. A therapist is able to help you identify these triggers and equip you to deal with them.

FRANK.NET offers Serious Illness Cover of up to R2 million tax-free that covers you in the event of cancer, a heart attack, open heart surgery or a stroke. If you are a smoker you may have exclusions on your cover for illness related to this, but if you quit and have been clean from nicotine for a year or more, it will not reflect on your application for cover. If you'd like to find out more about Serious Illness Cover from FRANK.NET, get a quote or request a call-back.

Sources
who.int
en.wikipedia.org
cansa.org.za
webmd.com
quitsmokingcommunity.org